Still no Decision on Gatwick or Heathrow Expansion
The fight to built and expand new runways at Heathrow or Gatwick has been going on for a really long time. The decision is still pending. A lot of survey, negative publicity and trash talk with certain allegations have been a part of this decision process.
"BORIS JOHNSON and Justine Greening, the international development secretary has launched an outspoken attack on plans to expand Heathrow, warning that a third runway would reduce the number of destinations served by Britain's hub airport."
"The mayor of London and Greening, have joined forces to complain that the recent report from the Airports Commission was flawed."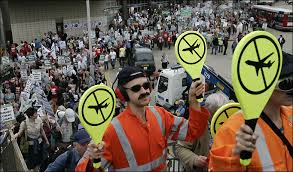 In a letter to David Cameron and about 1,500 MPs and peers, Johnson said, "It shows the number of domestic routes served by Heathrow would drop from seven to four in 2030. The support for a third runway would harm attempts by George Osborne, the chancellor and Johnson's leadership rival, to build a 'northern powerhouse'."
There also is a new talk of referendum to be decided upon this prolonged decision by the people itself. Simply means 4-6 more months in final decision and the battle will go on.
In an interview with the Evening Standard, chief executive John Holland-Kaye said, "The 'clear and unambiguous' conclusions of Sir Howard Davies's Airports Commission report in July meant nothing stood in the way of huge expansion of the west London hub."
He claimed, "We are so close to doing the right thing for London and the UK, it would be a tragedy not to seize this opportunity."
"Mr Holland-Kaye hoped that aircraft could start using the new runway by 2025, but only if the Cabinet makes a final decision this year."
"However, he warned that key issues needed to be resolved, including demands in the report for a ban on flights between 11.30pm and 6am and ruling out a fourth runway."
"Mr. Holland-Kaye said he was shocked by the conditions but insisted that he was 'confident there is a way through'."
If the decision takes any longer it will be leaving a big mess of disagreement and resentment between both of these major airports.
The only solution is to declare the results as soon as possible and let everyone make their peace with it.
Source: TheSundayTimes | Standard