Enjoy Inexpensive traveling with Easy Tips.
Traveling demands a bag full of money, that's why many people avoid traveling even in holiday season. Even those who plan a recreational tour, generally try to cut traveling expenditures by avoiding some services or comforts. Instead of fearing about expenses, just get rid of it by following some tips.
At International airports, there are lots of options for economical flying. You must take a review of the packages and deals offered by different airlines so that you would choose the one you can afford easily.
Get registered with travel deals websites. It will keep you updated about the latest deals and discounts. You can also get more benefits by having membership of travel facilitation sites. It will help you to enjoy pre-negotiated rates at many luxury hotels and travel packages at the place you are going to visit.
Try to pack only what you actually need. Over packing means extra checked luggage charges. If you are going to a long journey, you must pack your luggage wisely. Keep one quality pair of show instead of packing two along with comfortable clothing. Avoid stuffing you suitcase with lots of things.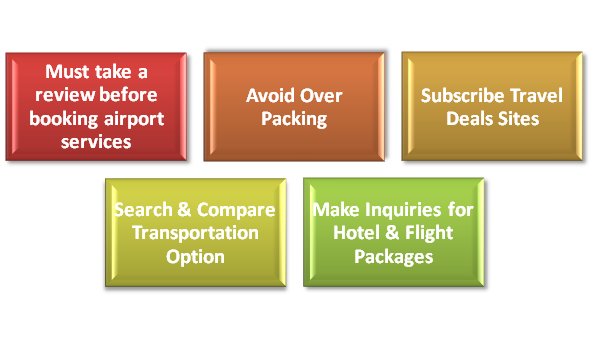 If you are not satisfied with third-party travel site for booking a hotel and flight packages, call directly to the hotel and make inquiries about the best available deals. It would help you to find good rates, for the reason that, sometimes the rates offered by the hotel wind up being low priced than online available price.   Hotels may be in need to fill the rooms at the last minute and some will be open to bargain a rate or package deal.
To reach at your destination from airport, it is suggested to choose a taxi service or rental car company after making a comparison and research.  Inquiring about taxi service providers and rental car companies before leaving home would help you to bargain a rate and to get a reasonable deal. Waiting until your arrival at airport will leave you with no time to compare the prices and you would end up with paying high prices.
Same goes for the UK Airport parking deals, if you want to ride towards airport by your own car. Search parking companies online, compare their service & prices and choose the one which suits you. Online pre-booking will also save your time and make you feel easy.
These guidelines assure happy, stress free and low cost traveling.