The Demerits of ill-Planned Parking.
Set aside the entire parking hiccups and resort to travelling in style with luxury. Airports are known to be crowded. Rarely one encounters a chance where passing through an airport in order to get to their destination goes smoothly. By smoothly, it is assumed that:
You did not have to face any traffic while driving to the airport.
You reach to the airport timely.
You happen upon a vacant parking spot.
You don't come upon long security queue.
The plane is on time.
Upon arrival you get to your car an find it, how you left it.
You drive off.
It would definitely be outstanding if it were so. But unfortunately, it's not. 3 among these 7 steps involving airport passing have a high potential to go wrong and 2, horribly wrong.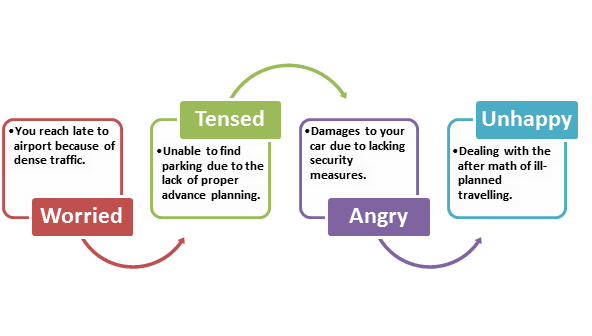 Worried, Tensed, Angry & Unhappy is no way of travelling. If you are worried even in the start of it and get tensed and angry gradually and become unhappy in the end. Your trip is a failure in itself as it failed to fulfill its purpose badly and entirely.
But, this crisis can be averted by means of advance appropriate administration of a fool proof parking plan. Mobit Airport Parking offers you the outstanding Valet Airport Parking amenities to evade the whole stress-full parking issues. You stand to avail the dedicated service of well-trained Valet with uncanny travel assistance.  You could also attain the car wash deals to treat your vehicle nicely after leaving it behind.
If you plan wisely, you will surely travell safe and happy. So, make your advance online parking reservation as you chalk out a travelling plan and be on your merry way.