How to Manage a Perfect Travelling Plan?
Imagine going on a vacation to an amazing destination and putting your sweat and blood in planning it perfectly. Oh, you also remembered to make the online parking reservation with a source you already authenticated to be secure. You also accounted all the facilities you could enjoy. But still you are not satisfied as there is a feeling, a reminder that keeps trying to tell you that you missed something or overlooked it.
You are not obsessing for sure because the feeling isn't going away. If you are able to pin-point the location of this exasperation before you begin with your journey you can surely resolve it. But if you don't, it's going to go with you on your vacation and enjoy your trip more then you. In case such a situation arises, the first thing you do is go over your vacation planner: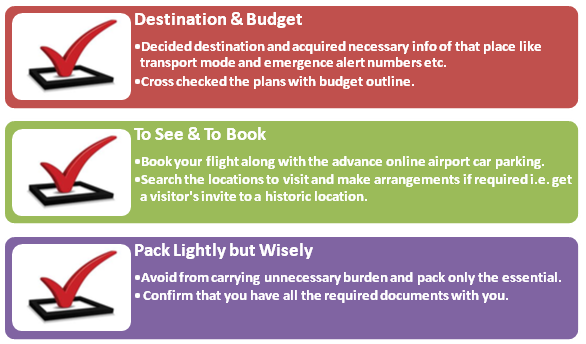 Once you have rechecked it all, the only things left are those you keep in mind to do on your departure day. Let's confirm them too:
Load the luggage, lock the house and drive to the Airport.
Inform the parking provider service of your arrival.
Handover your car to the Chauffeur at Meet & Greet point.
Proceed towards the departure lounge.
Similarly, upon your arrival:
Inform the service of your arrival after clearing customs
Proceed towards the meeting point.
Receive your vehicle from chauffeur and off you go.
If you have planned properly and arranged the bullet points in your mind clearly and correctly, it does not leaves much room for an error. This will be your own flawless travel plan as it evades all the issues that you could potentially encounter in your travels. Always travel well planned and make you parking reservation with Mobit Airport Parking to avoid hassle. Happy travelling….!!!