Guidance for Diabetics for healthy Air Travel.
People having some particular disease may not enjoy a peaceful travel, even they are afraid of air traveling due to their illness. Especially, people with diabetes have to face severe health issues during or before flight as planning a travel is distressing and tricky, which can upset their condition. For a happy and safe air traveling we recommend some very helpful tips for diabetics to follow.
The most important thing which should be kept in mind is to "stay calm". The more you will be calm,the more you will be able to complete your tasks and to cope up with the issues you may come up during a flight.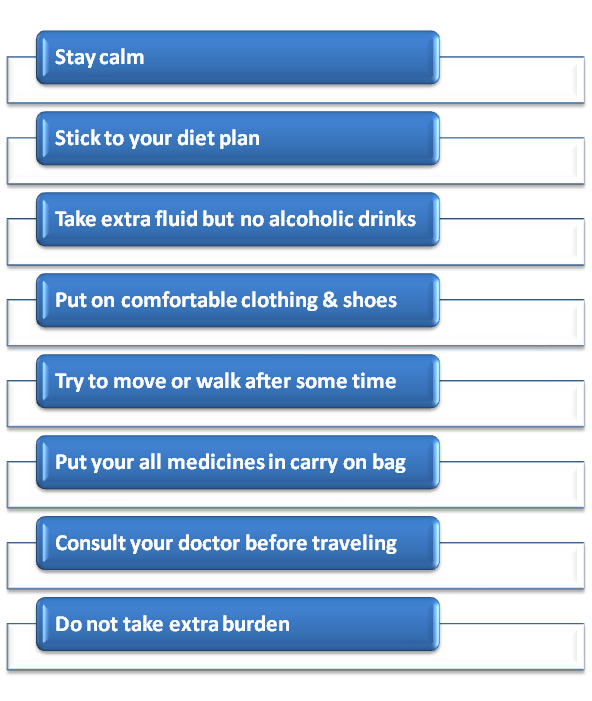 During traveling you should follow your diet plan as closely as possible. You must keep something to eat with you even for a short flight to pass up sugar level issues.
While flying, you should take extra fluids as cabin air is drier than normal air so you need to be hydrated. But you are strictly prohibited from taking alcoholic drinks for the reason that it can affect your condition negatively. Make sure to have your drinks in easy to access place.
Try to put on comfortable dress or shoes since air traveling involves walking, moving, standing at the airport and a long sitting in flight. Do not get in trouble and choose such clothing which would not cause any restriction while sitting.  Try to get up and move during a long flight. It will prevent you from poor blood circulation or swollen feet. Having an aisle seat would be helpful for you to move easily.
Carry your all diabetes medicines and your blood testing supplies with you in your carryon bag instead of packing in checked bags.  For coping with the temperature related issues, take a special insulated bag to carry your insulin to keep it from freezing or getting too hot. Get extra supplies for taking insulin and testing your blood glucose as item may broke or damaged in traveling.
If you are going to a trip which differs from your normal routine, you should talk to your doctor about how to adjust the medicine, especially your insulin. Must discuss the details and ask for an advice from your doctor because different time zones, diverse temperatures and more or less physical activity would affect your health condition.
Do not try to take extra burden because exhaustion may cause disturbance. At the airport you have options to go for UK Airport parking deals. Online booking according to your requirement will not take much time. At your arrival authorized attendant will park your car for you, with full security and will make you feel easy for other tasks.